The 2021 Supercross is a leading motorbike sporting event in the world. If you have been following the 2021 Supercross international event, especially 450SX, you surely want to know the latest information including the injury report. In 450SX, check the report below to find out who's injured, in, as well as out.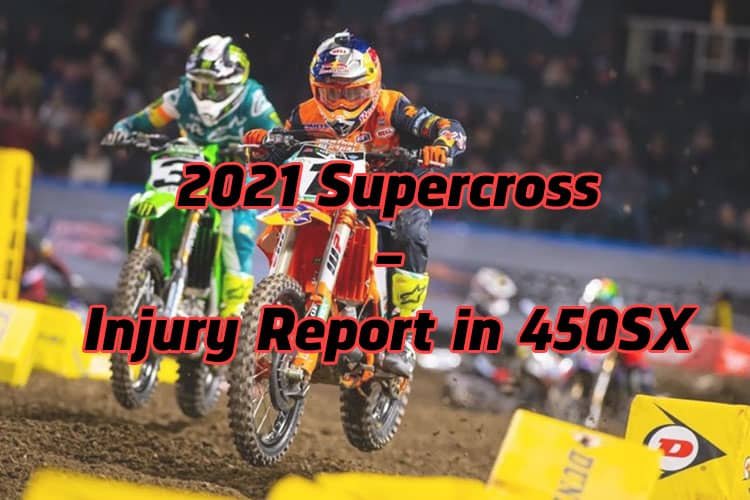 Chase Sexton
Sexton has a shoulder injury so he would skip Orlando 2. However, he is going to return to participate in Daytona.
Carter Stephenson
He has a broken wrist, two broken ribs, and fractured sternum. He got it when participating at Indy 3 qualifications. So, he is out of the season.
Henry Miller
He hurt his wrist. But Miller seems not ready for the Orlando 2. He withdraws until he is fully healthy.
Alex Ray
Alex Ray is back for the Orlando 2 Supercross 2021. back then, he was tested positive for covid-19 so that he did not participate in the Orlando 1. but the officials have confirmed that he is going to have Orlando 2.
Max Anstie
Max Anstie has a back injury. The Supercross 2021 is going to be the first race that he participates in after withdrawing from the previous event because of the back injury he suffered from. He's in.
Justin Brayton
Justin Braiton hurt his chest after crashing badly back then. According to the trustworthy source, he has problems with breathing. Racing for Supercross 2021 would be unlikely if he is not recovering. His status is TBD.
Dylan Ferrandis
Dylan Ferrandis crashed and was hit by Adam Cianciarulo. Back then, some folks were pretty sure that it was bad. Well, it is true. But he is well right now. He's in for Supercross 2021 next rodeo.
Justin Rodbell
Rodbell has been struggling to get over his shoulder injury. He got it back then when practicing for the big event. For the upcoming Orlando 2, Rodbell is out.
Also Check: Supercross 2021 live stream
The Supercross Round 8 will take place on Saturday, 7 PM ET in Orlando, Florida. Tune into NBC to watch the entire event through your TV devices or other connected TV devices. You can also stream the event on your favorite browser at NBCSports.com and NBC Sports App. The streaming coverage is also available at NBC Sports Gold Supercross and Pro Motocross Pass. You could pick the packages of Supercross and Pro Motocross to attain the full coverage.
If you are missing some games, don't hesitate to watch On-demand replays that are free from commercial ads.